Winter in Wimberley, Texas, may not bring snow, but it ushers in a season of warmth, charm, and unforgettable experiences. From enchanting events to cozy family getaways, Wimberley offers a perfect winter escape. In this guide, we'll take you through the seasonal delights, family-friendly attractions, and a fantastic lodging option that will make your Wimberley visit a memorable one.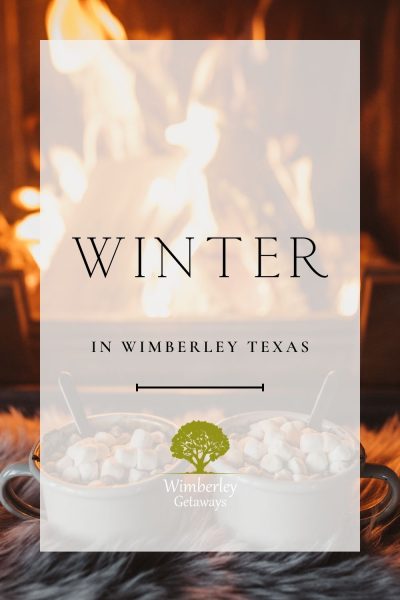 Winter Events in Wimberley
Wimberley, despite its small-town charm, knows how to throw a winter party. Here are some must-attend events:
Emily Anne Gardens Trail of Lights: Stroll through the enchanting garden adorned with twinkling lights. Local small businesses sponsor this magical display, creating a community-driven festive atmosphere. Don't forget to grab your free Hot Chocolate with marshmallows!
Market Days: Visiting Wimberley's Market Days in December is a fantastic way to prepare for Christmas and discover unique gifts. This outdoor market, held on the first Saturday of the month, offers a treasure trove of handcrafted and artisanal items that make for unforgettable holiday presents. Whether you're in search of locally crafted jewelry, artwork, or one-of-a-kind decorations, Market Days is the place to find that perfect, unique gift. Strolling through the market's vibrant stalls and enjoying the festive atmosphere adds an extra touch of holiday magic to your Christmas preparations. It's a must-visit destination for those looking to make their holiday shopping truly special.
Breakfast with Santa: Treat your little ones to a delightful breakfast with the jolly old man himself. This cherished tradition adds a sprinkle of holiday magic to your Wimberley visit. December 16, 2023 at the Scudder Primary School from 8:30-11:30.
Winter Wonderland in the Square: The Wimberley Square transforms into a festive hub with holiday lights, shopping, and live music. It's the perfect place to soak in the seasonal spirit. The town square is adorned with twinkling lights and offers shopping opportunities and live music. It's a great place for the family to enjoy the holiday atmosphere.
Wimberley's unique shops and boutiques to find one-of-a-kind gifts and souvenirs. It's an ideal way to spend a winter day, discovering charming stores that reflect the town's artistic and creative spirit.
Polar Plunge at Blue Hole: Brave souls can kick off the New Year with a refreshing plunge into the crystal-clear waters of Blue Hole. It's an exhilarating way to start the year with a splash. (May be canceled due to water levels)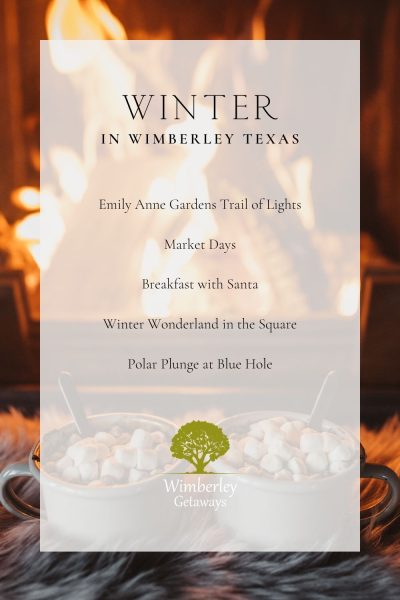 Family-Friendly Winter Getaway
Wimberley is not just for couples; it's a fantastic destination for families during the winter months.
With temperate weather and a close-knit community, Wimberley offers a family-friendly atmosphere. Take a hike through the beautiful countryside, enjoy a picnic near Jacob's Well, explore local shops, and enjoy a cozy meal at one of Wimberley's charming restaurants. The kids will love it, and you'll cherish the memories.
Wimberley Getaways - Your Home Away from Home
While you're exploring Wimberley and its winter wonders, make one of our Wimberley Getaways vacation rentals your home base.
The Messina Inn is a perfect choice for your lodging needs. Decorated for the season, it oozes warmth and comfort. If your family selects to stay at any one of our vacation properties, we will decorate a Christmas tree in your living area upon request. Imagine coming back from a day of adventures to a cozy, well-appointed lodging with a Christmas tree. It's the ideal way to complete your winter escape.
Available add-ons include: prepared wood for use in our firepits & all the fixings for s'mores.
Wimberley is a hidden gem in the Texas Hill Country, and a stay at one of our Wimberley properties will ensure your winter getaway is unforgettable. Book your stay now, and make Wimberley your home away from home this season.
Wimberley in winter is a magical escape for all. With charming events, family-friendly attractions, and cozy accommodations, it's the perfect destination for the season. Explore Blue Hole, savor Wimberley restaurants, and enjoy all the things to do in Wimberley this winter. Your perfect vacation rental awaits at The Messina Inn, so don't miss out on the chance to experience this enchanting slice of Texas.