Wimberley, Texas is in the heart of the Hill Country and has a lot to offer. Which lands it one of the best small towns to visit by LeisureandTravel.com.
Planning your trip to the Wimberley Valley is key with so many fun things to do. 
Looking to Swim in one of the famous waterways? Check out Jacob's Well Natural Area or Blue Hole Reginal Park. Both are sure to be a one-of-a-kind experience. Jacob's Well is a swimming hole created from an artesian spring and underground cave system. There is hiking and swimming in the Natural Area, but make sure to make reservations if you want to swim. The Blue Hole is a swimming hole with tree swings and platforms, and it includes trails, picnic spots, an amphitheater, and more; again, a reservation is required for swimming so plan ahead. We recommend booking online well in advance. Plus, Cypress Falls Swimming Hole offers water toys and a bar. Wimberley Getaways also has properties on the water, click here to check them out.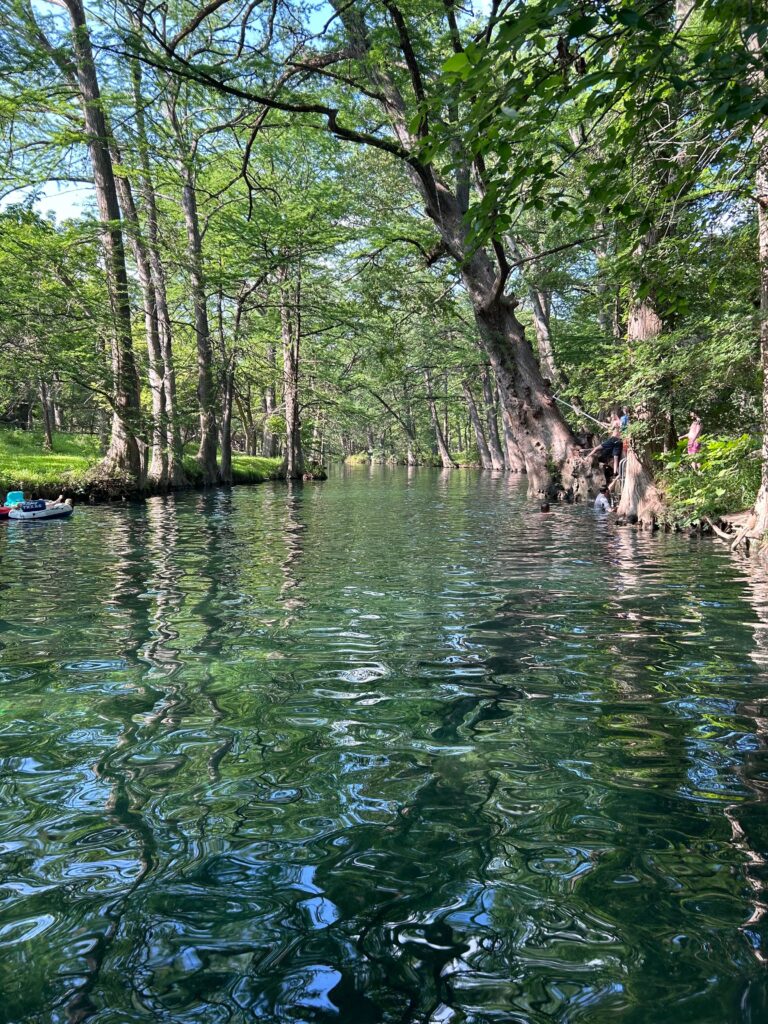 Maybe Shopping is what you love...
if so, not only do we have some nice boutiques there are also Market Days on the first Saturday of every month (March-December). Some of my favorite shops are River House, Cypress Creek Lavender, Los Olivos, Rancho Deluxe, Blue Willow, and ACE Hardware (gift shop). Whether you're planning a girl's trip or looking for some unique gifts our little town will surely help create some memories.  
Many people also love the Arts and cultural side of our eclectic town. If this sounds like something right up your alley then let's dive in. First off, there are some really great art galleries like: Art on 12, Pitzer's Fine Arts, Wildflower Art Gallery, Wandering Oaks Fine Art Gallery, and Base Camp Gallery. My favorite is Bootiful Wimberley which is a collection of 50 Boots all over Wimberley that have been hand-painted by local artists, totally Instagram worthy if you ask me! Glass Art is also a thing in Wimberley. You should check out a demonstration at Wimberley Glassworks or stop by the Silo Gallery & Glass Studio.  
 Who doesn't love to enjoy a refreshing drink while on vacation? There is something for everyone. Winery check, Brewery check, Coffee check, Rum check, Sweet Tea check. Here are my go-to places: The Wimberley Valley Winery, Middleton's Brewery, and Cactus Coffee. Plus, there are plenty of great spots to enjoy a meal and a drink like Wimberley Café, Los Olivos, The Creek House, Chills on the Creek, Hays City Store, Savages, and more. 
There are so many things to do here that I could go on and on! Ultimately, I hope the information I have provided is helpful and you enjoy your time here in Wimberley. Don't forget to check out our properties and find the perfect place to stay on your Wimberley Getaway. We have places for two like Messina Inn or Star Ranch for larger groups, we even have some pet-friendly homes as well.